Joanie Calem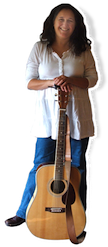 Hello! I am a parent, musician, singer/song-writer, and teacher. I have been creating music and teaching people of all ages since 1983. My goal in both my performances and teaching is to invite my audiences and students to share a sense of creating community through singing and playing together.
I grew up in a family that traveled a lot, and sang a lot! We sang old folk songs, jazz standards, and whatever else we could think of as we drove along.
When I became a parent, I turned my music-making to children and family concerts, but continued writing and performing adult material as well, particularly about the experience of parenting. I have two children, one who has autism. In addition to the unique parenting that one has to develop when shepherding a child with autism, I have spent many years teaching music in inclusive classrooms, developing systems to help everyone feel safe and welcome.
I lead "concert-conversations" and workshops for parents, teachers, librarians, community groups and schools, sharing original songs as starting points for discussions on how to build welcoming communities that allow room for the increasing neurodiversity in our world.