Joanie Calem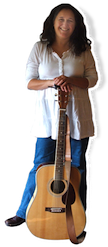 Hello and welcome! I am a musician, singer/song-writer, storyteller, music teacher and inclusion advocate. I know, that's a lot of different hats that I wear!
I have been creating music my whole life, and teaching people of all ages since 1983. My goal in both my performances and teaching is to invite my audiences and students to share a sense of creating community through singing and playing together.
I grew up in a family that traveled a lot and sang a lot! We sang old folk songs, jazz standards, and whatever else we could think of as we drove along.
When I was 15, I moved to Israel, and completed my high school degree at the Rubin Academy of Music in Jerusalem. I then continued my musical training in piano pedagogy, both in the conventional and the Suzuki systems, and early-childhood music and movement, opened my own piano studio and began teaching in music and movement in local schools. I studied for many years with Anne Barlin, who is considered one of the "mothers" of the dance therapy field and an experienced teacher of the Dalcroze system.
In 1998, my family and I moved to the United States, and since then I have led classes and music programs throughout the greater Columbus, Ohio area. Check out my calendar for upcoming shows or invite me to come to a program for your family and organization.