CDs are $10, and are available by mail from Joanie Calem, 4890 Sharon Ave., Columbus, OH 43214;
E-mail: joaniecalem@gmail.com
Also available from: CD Baby @ http://www.cdbaby.com/cd/joaniecalem
---
Shanah Tovah, Shanah M'tukah
a cycle of songs for the Jewish year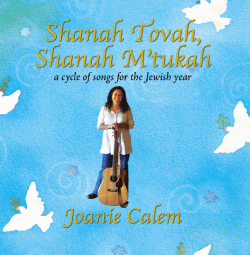 The title of Joanie's second CD is Hebrew for "Have a good, sweet year!" It is a 32-track treasure trove of songs for every holiday of the Jewish year, starting with Rosh HaShanah, the Jewish New Year, in the autumn. There are twelve favorite Israeli holiday songs, which Joanie sings in Hebrew and English, telling the stories of the holidays and the customs that accompany them, twelve of Joanie's fun originals, and eight traditional folk songs.
Joanie is joined on the CD by her daughter Tenara on vocals and violin. With this new CD, the whole family will be singing and dancing throughout the year.
CD's are $15 and can be ordered by email from
joaniecalem@gmail.com
Also available from: CD Baby & Oy Songs
Free Downloads for Shanah Tova, Shanah M'tukah CD
Requires the Adobe Acrobat Reader click to download
---
But First Do No Harm

But First Do No Harm is a collection of thirteen original songs and stories for parents, family members, therapists, and teachers of children not on the neuro-typical path.
The songs express the humor, hope, sadness, frustration, acceptance, and joy that adults recognize as the daily fare of guiding children through our complex world.
Great for a lift on hard days and a laugh on the fun days!
CDs are $10, and are available by mail from Joanie Calem, 4890 Sharon Ave., Columbus, OH 43214;
E-mail: joaniecalem@gmail.com
Also available from: CD Baby @ http://www.cdbaby.com/cd/joaniecalem3